The nonprofit Institute for Supply Management will release its monthly manufacturing report on Monday based on a survey of purchasing managers at more than 300 manufacturing firms. Economists predict the manufacturing sector to continue its steady growth, reflecting a demand-driven economy that is coming back strong from the worst days of the pandemic.
Here are five things to watch for in the ISM report, releasing on May 2nd at 10:00am EST.
Manufacturing is a survivor: expect a gradual slowdown, but don't panic
The big news at the end of April was the 1.4% fall in GDP in the first quarter. As this was the first time the economy shrank since early in the pandemic, both manufacturers and average Americans may feel they have something to fear.
But economists are clear: they don't.
"When I think of the manufacturing sector right now, the word that keeps coming to mind is resilience," said Chad Moutray, chief economist for the National Association of Manufacturers. "We've seen this underlying strength when it comes to demand, despite numerous challenges," including workforce shortages, rampant inflation, Covid-19 shutdowns in China, and soaring input costs.
"I do think that you're starting to see some cooling off in overall activity…but [the report] is still going to be positive, and our members are still positive in their outlook," Moutray said.
We may see corrections from March's disappointing new orders figures
Last month's manufacturing report had a poor showing in the key area of new orders, which registered at 53.8%, a decrease of nearly eight percentage points from February.
New orders dropped 7.9 percentage points from February to March
While a figure over 50% indicates growth, a more robust expansion in new orders was thwarted in March by supply chain constraints plaguing China's factories and global shipping. New orders measures future demand and production requirements, and manufacturers could have looked across the ocean at Ukraine and felt a chill run down their spine.
Now that manufacturing firms have better adjusted to a more unpredictable economy, "new orders may recover somewhat from the dip last month," David Sloan, a senior economist at Continuum Economics, said.
Worker shortage likely to persist
Although there are plenty of manufacturing jobs, firms still can't find the workers to fill them. Employment was up 3.4 percentage points from February to March, but that growth "may be difficult to sustain" into April, Sloan said.
Worker retention is a critical and often-overlooked issue, said Moutray of the National Association of Manufacturers. "We need to keep the workers that we have because we know how expensive it is to replace a worker when you lose them," he said, citing the high quit rates in manufacturing early this year.
A strengthening dollar could bring down exports
The U.S. dollar is climbing rapidly these days, driven by the overall boom in the economy and the Fed's interest rate hikes, which attract foreign investment. A strong dollar makes American exports less attractive—they are more expensive for foreigners—but makes it cheaper for American consumers to buy goods from abroad.
For manufacturing, "if the dollar continues to strengthen, then the negative trade balance could get wider because it gets more expensive to export," said Jason Schenker, president and chief economist at Prestige Economics. "There are going to be some dynamics that are important to watch" around fluctuating imports and exports, he said.
If supply chain problems persist, domestic oil investment could be scared off for now
Since the early days of Russia's invasion of Ukraine economists have been predicting a surge in domestic oil production. But "it's not going to be a quick pick-up," said Michael Moran, chief economist at Daiwa Capital Markets America.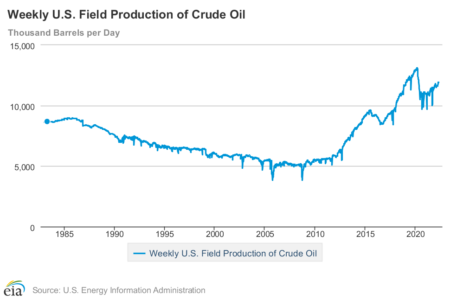 While U.S. crude oil production has risen steadily in recent months, there hasn't been a big boom yet.
The Fed's interest rate hikes are making it more expensive for manufacturers to borrow money and buy equipment for new ventures. Big capital investments might be too risky at this point, and worker shortages and stubborn supply chain problems could compound investors' unease.
"I'm very anxious to see the supply delivery component because that will give us some insight into what's going on with supply chains," Moran said. March's report showed a slight fall in supplier deliveries, which measures suppliers' abilities to meet demand from firms.
These persistent anxieties may be enough to hold off considerable investment in domestic oil production for now.
"There's been a change in attitude in the oil production industry—they want less stop and go production activity. They want to be more careful with their investment spending," Moran said.